I have a last-minute chance to see a Muse concert! Monday night. And I am so snagging it. I've only been to a few concerts in my life, but it's something I always wanted to do more of. They can just get so
expensive
, so I always dragged my feet about buying tickets, even for shows I wanted to see. (We have a great radio station that tells you about all the shows coming to the area, so I hear about them a lot.) But this time a friend twisted my arm to go because her brother bailed and she had an extra ticket. (It didn't take much twisting.) We'll be geeking out about Doctor Who and All Things Nerd the whole time, I'm sure. And Cage the Elephant is opening, which is doubly awesome.
If you live in the Philadelphia/Tri-State Area, you'll be able to see a rocket launching tonight! It leaves Wallops Island, VA at 11:27 pm. Check it out! There should be clear skies. Click
here
for more details and a map of the viewing area. I got to see a shuttle launch on a vacation in Florida once, and it was the highlight of the whole trip. If you ever get the chance to see a shuttle launch, TAKE IT. Even if you have to drive four hours to get there. You won't regret it. Did you know that after a shuttle launches, the disturbance in the upper atmosphere creates a certain kind of cloud that
only occurs after a launch
? We got to see those too.
Have your nightmares been losing fuel lately? Well, I'm here to solve your problem. Presenting
Reverse Speech
, sent to me by a coworker who evidently gets more than enough sleep. They take recordings and play them backwards, and it's crazy how clearly words come out that are clear as day and saying exactly the opposite. I'm not really into occult type stuff, so I tend to take things like this with a grain of salt, but this totally creeps me out. Check out the reversals from the
Jon Benet Ramsay case
.
And duuuude, the books coming out this month! I WANT THEM ALL.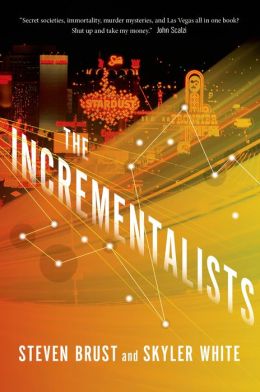 The Incrementalists - Steven Brust and Skylar White - out 9/24
Review from Little Red Reviewer
The Incrementalists—a secret society of two hundred people with an unbroken lineage reaching back forty thousand years. They cheat death, share lives and memories, and communicate with one another across nations, races, and time. They have an epic history, an almost magical memory, and a very modest mission: to make the world better, just a little bit at a time. Their ongoing argument about how to do this is older than most of their individual memories.
Phil, whose personality has stayed stable through more incarnations than anyone else's, has loved Celeste—and argued with her—for most of the last four hundred years. But now Celeste, recently dead, embittered, and very unstable, has changed the rules—not incrementally, and not for the better. Now the heart of the group must gather in Las Vegas to save the Incrementalists, and maybe the world.
(Synopsis from
BN
)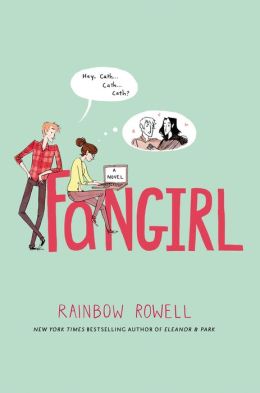 Fangirl - Rainbow Rowell - out 9/10
In Rainbow Rowell's Fangirl, Cath is a Simon Snow fan. Okay, the whole world is a Simon Snow fan, but for Cath, being a fan is her life—and she's really good at it. She and her twin sister, Wren, ensconced themselves in the Simon Snow series when they were just kids; it's what got them through their mother leaving.
Reading. Rereading. Hanging out in Simon Snow forums, writing Simon Snow fan fiction, dressing up like the characters for every movie premiere.
Cath's sister has mostly grown away from fandom, but Cath can't let go. She doesn't want to.
Now that they're going to college, Wren has told Cath she doesn't want to be roommates. Cath is on her own, completely outside of her comfort zone. She's got a surly roommate with a charming, always-around boyfriend, a fiction-writing professor who thinks fan fiction is the end of the civilized world, a handsome classmate who only wants to talk about words . . . And she can't stop worrying about her dad, who's loving and fragile and has never really been alone.
For Cath, the question is: Can she do this? Can she make it without Wren holding her hand? Is she ready to start living her own life? And does she even want to move on if it means leaving Simon Snow behind?
(Synopsis from
BN
)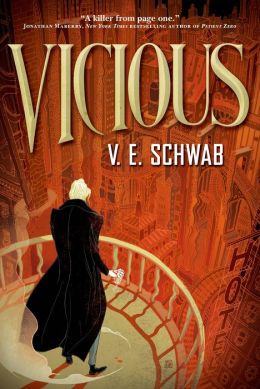 Vicious - V. E. Schwab - out 9/24
A masterful tale of ambition, jealousy, desire, and superpowers.
Victor and Eli started out as college roommates—brilliant, arrogant, lonely boys who recognized the same sharpness and ambition in each other. In their senior year, a shared research interest in adrenaline, near-death experiences, and seemingly supernatural events reveals an intriguing possibility: that under the right conditions, someone could develop extraordinary abilities. But when their thesis moves from the academic to the experimental, things go horribly wrong.
Ten years later, Victor breaks out of prison, determined to catch up to his old friend (now foe), aided by a young girl whose reserved nature obscures a stunning ability. Meanwhile, Eli is on a mission to eradicate every other super-powered person that he can find—aside from his sidekick, an enigmatic woman with an unbreakable will. Armed with terrible power on both sides, driven by the memory of betrayal and loss, the archnemeses have set a course for revenge—but who will be left alive at the end?
In Vicious, V. E. Schwab brings to life a gritty comic-book-style world in vivid prose: a world where gaining superpowers doesn't automatically lead to heroism, and a time when allegiances are called into question.
(Synopsis from
BN
)