I know I haven't been the most timely blogger lately, and for that I apologize. But there have been so many exciting things going on! New Carpet! and The Grand Adventures of Unclogging the Kitchen Sink! and Yardwork Sucks! and Our House is Awesome!
That's not even close to everything. Needless to say, owning a house is a lot of work, but it is so unbelievably awesome that I don't regret a thing. The main stretch of rooms on the ground floor is just about finished. And once it is, time to move on to the upstairs! We've been sleeping on an air mattress in the dining room like proper Young People. I've been cooking some delicious things and some not-so-delicious things, but it's all fun, no matter how funny-looking dinner turns out. (The best part of cooking is the eating, though.)
I recently made a corn and bean salsa with black beans, sweet white corn, and jalapenos and habaneros and cilantro, all sauteed together. Then we tucked it into lettuce wraps and crispy taco shells with pulled pork slow cooked in root beer. Also spooning half a bell pepper and half an avocado together, and putting the toppings on that. Oh my, they were tasty. Root beer is the best thing to cooked pulled pork in (just be sure to dump it out after cooking, you don't keep it as a sauce.) We're still eating the leftovers. I've loved cooking for a while, but this is the first time I've had full range of the kitchen and actually started experimenting. I made this
healthy cookie dough dip
, and let me tell you, it actually is delicious. I had a hard time thickening it up though. And no, not everything I make is healthy, like these
chocolate-crusted banana blondies
. I couldn't find an appropriate chocolate wafer cookie. I was looking for something super-chocolatey like oreos without the cream, but ended up using chocolate graham crackers instead for lack of options. Also these
coconut chicken strips
, which were amazing. I've been trying to cook gluten-free, because SOMEBODY IN THIS HOUSEHOLD IS INTOLERANT. I will mention no names. But I will say that there is only one other person living in this house with me (at the moment at least). But it's hard to stay gluten free when said somebody keeps going out to the grocery store and buying bagels and macaroni and cheese. Oh well. I do what I can. It's not my fault his stomach is miserable.
Pinterest is awesome
for finding recipes, and there are still tons of things I want to try.
Doctor Who cupcakes
,
homemade pierogies
,
these cauliflower things
, healthy
chick-fil-a nuggets
,
creme brulee french toast
, and
ice cream bread
. Yes, I know that most of these aren't gluten free. So sue me. I stalk Pinterest several times a day now. Something else I've learned: quinoa tastes awful. Eating it is like popping a spoonful of bugs between your teeth. Blegh. That is one health-food fad I am not on board with.
As for books, I've mentioned before that I was in a reading lull for a while. A
major
one. I have stacks of books that I read a chapter of before tossing it aside and moving on, only to toss that next book aside as well. Do you have idea how much that sucks? After spending my entire life turning to books to relax and chill and get out of my own head for a while, suddenly I couldn't do that anymore.
I was finally able to get through books again, with a few awesome titles to get me back into things. I've gotten into YA again, because adult still requires too much thinking. Definitely not a bad thing. But it's funny, my best friend and I always book-shop and swap books and recommend each other things, but we were both reading drastically different genres for a while. She was strictly YA, and I was reading regular SFF. But now, she needs a break from all the high-school twitterpated love and dystopian stories and is reading adult fiction, and I'm getting into all the YA books I've been missing.
A few quick reviews, because I'm still not fully back into the swing of things:
Graceling, Fire, and Bitterblue by Kristin Cashore.
I knew these books were getting rave reviews for a while. I knew
Bitterblue
was a huge anticipated release. And yet I didn't know much about the books at all until one of my good friends gave the set to me for Christmas. HOLY CRAP am I so happy she did. These books are amazing. They were exactly what I needed to break me out of my reading funk. A badass heroine, a fantastic through-the-woods setting, and amazing, clear writing. I think
Graceling
is still my favorite, but I loved them all.
Fire
has the best father-young daughter dialogue I've ever read
.
And
Bitterblue
ties the first two books together, making the series a complete whole. I normally don't go for series that drastically change viewpoints and styles between the books (that's the main reason why I hated
The Passage
by Justin Cronin), but Cashore really made it work here, and she made you not hate the fact that you weren't reading more about the characters from the previous books. Not to mention, I am now totally addicted to her
blog
. I love catching glimpses of her handwritten notebooks. And, completely unrelated, she recently took a trip to Martha's Vineyard, where I used to vacation with my best friend and her family during high school. It was wonderful to see those pictures, they brought back so many good memories. (Stonewall Beach!)
Taken
by Erin Bowman.
I won a copy of this from Meagan Spooner's
blog feature
"In Search of the Write Space" (which I absolutely love). I've been really judicious about which raffles I enter. If I'm not super excited about it, I don't enter. Raffles are everywhere these days, and I don't want to end up with a pile of books that I don't really want when there are other people who are extremely excited for the book. Because when you enter, you do win occasionally (boggles my mind). Needless to say, I was really freaking excited to hear I'd won a copy of
Taken
, because it was a book I actually wanted to read! Signed! Complete with swag! *happy Gina*
Anyway, that's an unnecessary lead-up for me to tell you that this book ROCKED. And it went in a totally different direction than I expected. It was over way too soon, and I wish the trilogy had been printed as one huge 1000-page book so that I could read the whole thing at once. The mystery and tension was
insane
. That's the one thing that consistently bothers me with YA. The stories are over so quickly! I do tend towards the longer books, because I get to really immerse myself in the worlds I love.
And now, for something completely different:
Currently reading: Little Brother by Cory Doctorow.
I know I've talked about this book already. I was so excited for the book, bought it that very day, brought it home, read a chapter and a half, then tossed it aside. Trust me, it's by no fault of the author. I finally picked it up again the other day, and holy shit, people, this book is So. Freaking. Good. It's so good it makes me want to cry. It strums all the little nerd-strings of my heart. It is chock-full of facts and knowledge (I love when I can read fiction and pretend it's non-fiction.) I even looked up several things to see if the author is pulling my leg. He isn't. They're true. (So if there are other NOT-true "facts" in the book, the author totally has me fooled because I completely believe him.) Well, not
completely
. I realize many things are extrapolated to make the book work. But I do believe that everything is rooted or inspired from the real world. This is a really amazing book. Believe the cover blurbs, too, it's an important book. But I am sucked into the world, and that's the best thing I can ask for. I am quite happy there is a second book already out,
Homeland.
I have absolutely no idea how this book is going to end. That a) makes me nervous, but I doubt a book this well thought-out will suddenly flop on the ending, and b) thrills me, because how often do you read something and have no idea about the end? Seriously? The good guys win, he gets the girl, she gets the guy, immediate conflict is resolved while leaving strings for the sequel. But with this book... I HAVE NO IDEA. IT'S AMAZING.
Link
to Aaron Swartz's story, the reason I picked up the book.
Marcus aka "w1n5t0n," is only seventeen years old, but he figures he already knows how the system works–and how to work the system. Smart, fast, and wise to the ways of the networked world, he has no trouble outwitting his high school's intrusive but clumsy surveillance systems.
But his whole world changes when he and his friends find themselves caught in the aftermath of a major terrorist attack on San Francisco. In the wrong place at the wrong time, Marcus and his crew are apprehended by the Department of Homeland Security and whisked away to a secret prison where they're mercilessly interrogated for days.
When the DHS finally releases them, his injured best friend Darryl does not come out. The city has become a police state where every citizen is treated like a potential terrorist. He knows that no one will believe his story, which leaves him only one option: "M1k3y" will take down the DHS himself.
(
GR
)
Other books I am really looking forward to reading:
While We Were Watching Downton Abbey by Wendy Wax.
I saw this sitting on a table at Barnes and Noble, and was intrigued. I've watched the first season of Downton Abbey, and while I like it, I'm not super into it. I still haven't watched the second season, for instance. But I'm really interested to read about the friends in this. This isn't my typical read, but there's nothing wrong with that! A lot of the books I'm reading now are downers, like
Life After Life by Kate Atkinson
. The main character keeps dying, then you start her life over, it goes wrong, and she dies again. Then she dies again. She is miserable and withering many of the times, and the other lives something horrible happens to her. That gets hard after a while. I really wanted this book to be everything
Cloud Atlas
wasn't, a book about how lives are linked. And there are really cool parts, like when she remembers snippets from her past lives and does drastic things like pushing her maid down the stairs. This book deals with consequences really well. I really want to keep reading it and follow through to the end, and writing this actually got me interested to pick it up again. I still don't know how it all culminates and links together.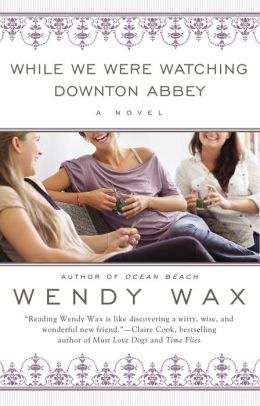 From the author of Ten Beach Road and Ocean Beach, a new novel of four friends--and a shared passion that could change their lives.
When the concierge of The Alexander, a historic Atlanta apartment building, invites his fellow residents to join him for weekly screenings of Downton Abbey, four very different people find themselves connecting with the addictive drama, and—even more unexpectedly—with each other…
Samantha Davis married young and for the wrong reason: the security of old Atlanta money—for herself and for her orphaned brother and sister. She never expected her marriage to be complicated by love and compromised by a shattering family betrayal.
Claire Walker is now an empty nester and struggling author who left her home in the suburbs for the old world charm of The Alexander, and for a new and productive life. But she soon wonders if clinging to old dreams can be more destructive than having no dreams at all.
And then there's Brooke MacKenzie, a woman in constant battle with her faithless ex-husband. She's just starting to realize that it's time to take a deep breath and come to terms with the fact that her life is not the fairy tale she thought it would be.
For Samantha, Claire, Brooke—and Edward, who arranges the weekly gatherings—it will be a season of surprises as they forge a bond that will sustain them through some of life's hardest moments—all of it reflected in the unfolding drama, comedy, and convergent lives of Downton Abbey. (BN)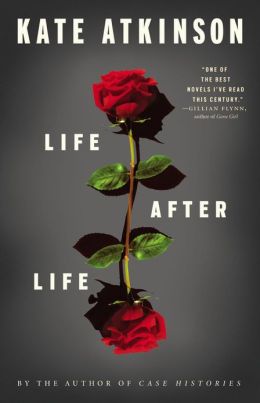 What if you could live again and again, until you got it right?
On a cold and snowy night in 1910, Ursula Todd is born to an English banker and his wife. She dies before she can draw her first breath. On that same cold and snowy night, Ursula Todd is born, lets out a lusty wail, and embarks upon a life that will be, to say the least, unusual. For as she grows, she also dies, repeatedly, in a variety of ways, while the young century marches on towards its second cataclysmic world war.
Does Ursula's apparently infinite number of lives give her the power to save the world from its inevitable destiny? And if she can — will she?
Darkly comic, startlingly poignant, and utterly original — this is Kate Atkinson at her absolute best. (BN)
Code Name Verity by Elizabeth Wein.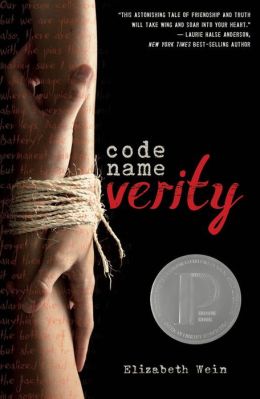 I picked this up after reading
Taken,
because I wanted something thrilling and something that people had been raving about. So far, I like it, but it is a bit slow going. I love the narrator's voice, and I love the diary format (but not really a diary, in actuality it's a written confession). This is another book about best friends. While I'm all for a great love story, that's not the only kind of strong, binding relationship out there in the world. It's nice to have the same variety in my books. (I also missed buying this in paperback by about a week. Darn. One of the few times I buy a book on a whim instead of researching it incessantly. That's okay though, I like supporting authors and bookstores.)
Oct. 11th, 1943-A British spy plane crashes in Nazi-occupied France. Its pilot and passenger are best friends. One of the girls has a chance at survival. The other has lost the game before it's barely begun.
When "Verity" is arrested by the Gestapo, she's sure she doesn't stand a chance. As a secret agent captured in enemy territory, she's living a spy's worst nightmare. Her Nazi interrogators give her a simple choice: reveal her mission or face a grisly execution.
As she intricately weaves her confession, Verity uncovers her past, how she became friends with the pilot Maddie, and why she left Maddie in the wrecked fuselage of their plane. On each new scrap of paper, Verity battles for her life, confronting her views on courage, failure and her desperate hope to make it home. But will trading her secrets be enough to save her from the enemy?
A Michael L. Printz Award Honor book that was called "a fiendishly-plotted mind game of a novel" in The New York Times, Code Name Verity is a visceral read of danger, resolve, and survival that shows just how far true friends will go to save each other.
(
BN
)
Acacia by David Anthony Durham.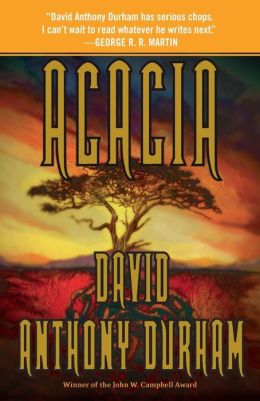 This book always caught my eye in the bookstore. Since it's going to be a while for
Day Three
of The Kingkiller Chronicle (you must read
these speculative essays
, and 2014 seems a bit optimistic--I'd rather wait longer for a better book), and I don't have any other epic fantasy series going on right now, I wanted something to fill that gap. Although
The Daylight War
by Peter V. Brett just released, but I can't bring myself to buy that hardcover without rereading the first two of the series. (A great series, by the way.) But I gave my copies to a friend. Damn, I need to get those back. I can wait for the mass market edition, that's my preferred way to read them anyway (sorry PVB). And while I've read the first 2½ books of A Song of Ice and Fire, they are too slow and I have too many other books I'd rather read. I'm content to stick with the show. This book has quietly been getting good reviews since it's release, and I was able to snag a copy through
paperbackswap
. I'm eager to dive in, and I really hope it's everything I want it to be.
The first book in David Anthony Durham's acclaimed fantasy series, the Acacia Trilogy—a timeless tale of heroism and betrayal, of treachery and revenge, of primal wrongs and ultimate redemption.
Leodan Akaran, ruler of the Known World, has inherited generations of apparent peace and prosperity, won ages ago by his ancestors. A widower of high intelligence, he presides over an empire called Acacia, after the idyllic island from which he rules. He dotes on his four children and hides from them the dark realities of traffic in drugs and human lives on which their prosperity depends. He hopes that he might change this, but powerful forces stand in his way. And then a deadly assassin sent from a race called the Mein, exiled long ago to an ice-locked stronghold in the frozen north, strikes at Leodan in the heart of Acacia while they unleash surprise attacks across the empire. On his deathbed, Leodan puts into play a plan to allow his children to escape, each to their own destiny. And so his children begin a quest to avenge their father's death and restore the Acacian empire—this time on the basis of universal freedom. Forced to flee to distant corners and separated against their will, the children must navigate a web of hidden allegiances, ancient magic, foreign invaders, and illicit trade that will challenge their very notion of who they are. As they come to understand their true purpose in life, the fate of the world lies in their hands.
(
BN
)