Have you ever found a book out of the blue, read it, and then had it be surprisingly good — one that stuck with you for years? If so, what book was it?
— From
Should Be Reading
.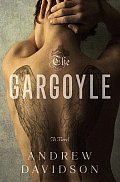 For me, this book was
The Gargoyle
by Andrew Davidson. Back in college I worked at a B. Dalton (good times!) and we'd received an ARC of this book. It was completely unknown, and sat on the break table for months with all the other unwanted ARCs. I picked it up on a whim one day, probably because of the stunning cover.
I was awed. It took me a long time to read it, partly because I was studying for exams during a hectic semester and partly because I didn't want it to end. It truly was my escape from real life. I gave it to my mom and Phil's mom, and they both liked it as well.
I also think I'd consider this the first book I read as an "aware" reader. I'd always read books and enjoyed the surface story and then moved on. But with this book I was finally seeing the tricks an author used to tell a story, and started to see what was happening between the lines. The ending blew my mind, that it could be so simple, explained right from the beginning, and yet had me convinced it would turn out differently until the very end. And I don't know if this happened to anyone else, but most all of the books I read in high school or earlier I've completely forgotten the details by a few months later. Characters, settings, plot details, just
poof
. All I remember from
LotR
is whatever's in the movies, and I worked my ass off to get through those in middle school. It wasn't until college that I started remembering details from the books I'd read.
This was also my first foray into adult fiction. I'd read fantasy books for years, but they'd always been fairly bloodless and clean. This book had a violent accident on the first page, followed by sex and drug addiction. It opened my eyes and took me away from my prudish reading list. But most importantly, it is a beautiful love story. It showed me that there are Magical Realism gems in the mainstream fiction section, books that just wrench around your emotions. It's still one of my favorites.